I want to begin by thanking you all for joining us for the celebration of the life of Teresa, our mother, our grandmother, great-grandmother, mother-in-law, sister-in-law, grandmother-in-law, aunt and friend (and I include in that group those who have cared for her at Allity, because she did see you as friends). We remember her also as the daughter of John Nelson Shirley (Jack) and Elizabeth Mary Shirley (Betty), who welcomed her into life in Birmingham, England on 15th May 1929. And of course, we remember her as the much loved wife of Peter, whom she married in 1950 but who died in 2005 after nearly 55 years together.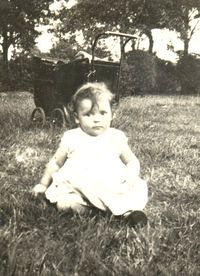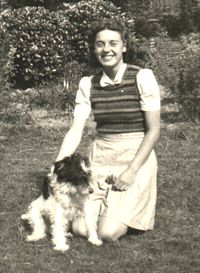 I might just explain to you the significance of the symbols just brought up by some of Mom's grandchildren and great-grandchildren:
Prayer book and rosary – symbols of her faith and prayer commitment
Picture of her extended family taken at her 90th birthday celebration last year.
Her Union Jack pillow – I think in her later years Mom became more determinedly English – hence her choice of the final song for today (There Will Always Be An England)!
One of her many cross stitches, many were completed as gifts for people – a sign of her methodical and creative nature – and a shared hobby with Dad
Picture of Grace – her canine companion during Dad's illness and after his death
Coffee cup – ¼ strength, very hot latte, 2 sugars – definitely a tradition!
Earrings and nail polish – her love of an occasion, social ties and bling – in the 48 hours before her death she had her fingernails, toenails, eyebrows and hair done – and received communion – she was ready for anything!
Mom was the only child of Jack and Betty; she was bright and did well at school. Like many children of that time, the war brought evacuation from home to safer places but from all accounts this was quite a pleasant experience. Finishing school led to taking up a position as a secretary and managing to find time for the social life that eventually led to her marrying Dad when she was 21.
Family members started arriving (I'm not mentioning dates here!) and Mom had the issue of bringing us up at a time when Dad was in the police force, first in uniform, with the associated shift work hours, and then as a Detective Sergeant. She often told, with some delight, how, when they were courting, she would show Dad off to her friends by taking them to watch him doing traffic point duty in the middle of a busy Birmingham intersection. You can picture the giggling girls! Dad swore that he kept his cool at all times and that any stories of traffic gridlock were exaggerated (at least that's what he told his Inspector)!
It is not possible to talk about Mom without speaking of her union with Dad – them as a married couple and as parents together. Our memories of Mom and Dad together are treasured ones. They were passionately in love, openly affectionate and a wonderful model of marriage. Mom was more inclined towards an argument; Dad much less so, but if there ever were one, we always went to bed knowing that the issue had been resolved. Again, a great example to us.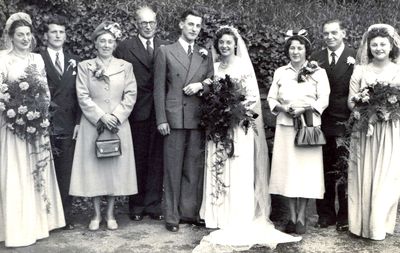 In the early 60s, Dad was keen to bring the family to Australia to give us more opportunities. Whilst Mom was less keen, that was not obvious to us at the time. She was loyal and supportive. For the two of them, it was a momentous decision for a couple in their mid-thirties with three young children. Life was difficult for a while. Mom had to return to full time work and the days, including travel to the city in Sydney each day, were long. She worked at a few places including MBF and Celco.
She enjoyed the sun, the beach and the outdoors. In the days before skin cancer had been invented, while liberally basted in coconut oil, she revelled in turning herself slowly to ensure a uniform bronze to deep chocolate colour all through the summer! In later years, she and Dad covered thousands of kilometres with their caravan, frequently with friends.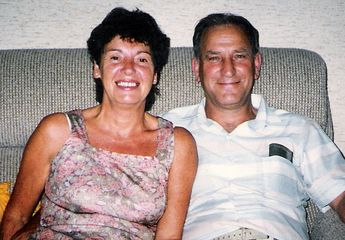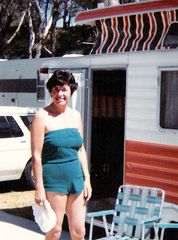 Shortly after moving to Menzies Rd in Marsfield, Mom took on the position of Secretary to the Provincial of the Divine Word Missionaries. This was the start of a long and ongoing association, not only professionally but also personally as she and Dad frequently invited members of the order to family celebrations, meals and holidays. We were pleased to receive messages of condolence from the current leaders of the order.
She also had the knack of adopting others as family, sometimes to live with us for periods – we think of Michael, Paul, Jim, Eric, Val, Bev, Bernie and Alec to name but a few…
A move to Cattai brought with it the opportunity to enjoy a bush setting and one where there could be very close bonds built with the parish and community. Mom became a volunteer in Neighbour Aid and supported several aging people (sometimes not much older than she was) with shopping and other tasks. She also began her voluntary work at the hospital, something that she continued for 20 years.
Dad's premature death in 2005, albeit after an extended time of illness, was a shock to us all. Our first thought was – how will Mom survive? One half of a mutually dependent, trusting, tight, loving and impregnable relationship had been lost.
I think it can be said that she did particularly well up to the last 3 or 4 years. She continued her voluntary work, drove for her daily coffee, shopped and managed her life……
Thanks to aged care support at home, Mom could stay there longer, although Greg and I are the first to acknowledge the tremendous sacrifice by Teresa in time and effort which made that possible for as long as it was. Teresa was, of course, the closest, and much of the burden fell on her. We are also very grateful to Mum's neighbour Clare, first respondent in a crisis.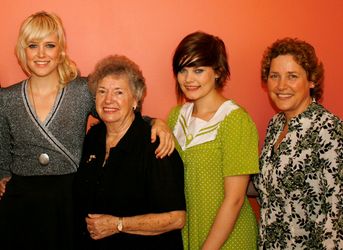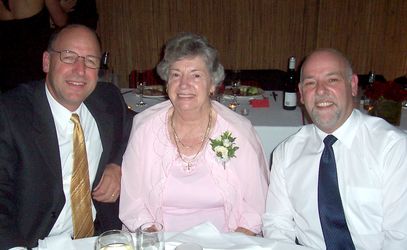 Sadly, a series of falls and heart events led to hospitalisation and then the need to enter full time care. Here we were most fortunate to find a place for her at Allity at Pemulwuy. The transition was not easy for her. Within a very short period of time, she had lost the reduced independence she still had. But she again made new friends. We were particularly relieved that she met a staff member Lynne, also from Birmingham, who helped her, and us, so much in the early difficult days of settling in.
Mom had a great capacity to make friends. I think the secret was her connection with people – she was interested in them….and people appreciated that. She enjoyed all social interactions; she engaged anyone in conversation and often sought out the quieter less confident ones; she asked questions and she listened. She would have been a very good agony aunt.
Mom read widely and maintained a keen interest in politics and world events right to the end. She was strong in her faith and appreciated receiving communion each week from Peter Lawless. She was disappointed that attendance at Mass was not possible over the past year, except on rare occasions.
Right up to last week at Allity, whenever anyone asked how she was going she'd still say something like "Still trying to escape!" but while, obviously, she would have preferred to be in her own home, she was full of praise and gratitude for the care and concern she received from the staff at Allity. She felt very loved. Teresa, Greg and I are very grateful to all the staff for that care, right up to her final hours.
As we join today to remember and celebrate the richness, the diversity and the longevity of Mom's life, and all those whose lives she touched, thank you for the way you added to the fabric of her life through your friendship, patience, support and love.
May she rest in peace.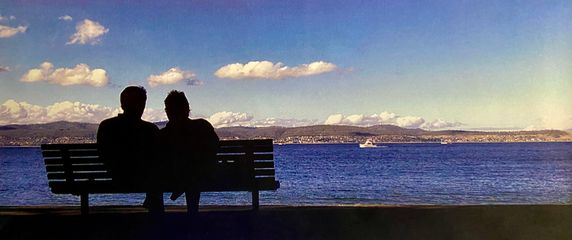 Chris, Greg, Teresa and all of Mom's family thank each of you who remember her and give thanks for knowing her.
We know that Mom and Dad are together again in eternal life.