I used a SPOT Messenger for about 7 years. The SPOT device is a small device that gets your GPS position and on command sends a message with your current position to the findmenow.com using a commercial satellite network (GlobalStar). The system then sends preconfigured messages to up to 10 email and mobile phones (via SMS).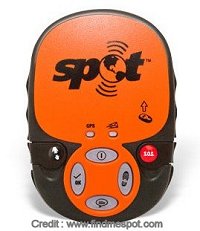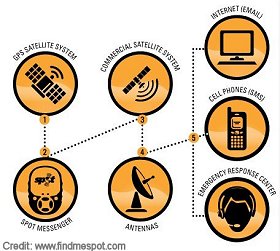 Subscription was $115USD per annum for the service
but has gone up to $175USD over the last couple of years
. Add exchange rate and GST you end up paying $352AUD which is quite pricey. For that you get unlimited emails and 200 SMS messages. For Australian users, the mobile phone number must have the the leading zero dropped and 61 added to the front (country code). For example 0412345678 becomes 61412345678.
Pros and Cons Compared to EPIRB
Of course, the traditional method of alerting people when you need help in remote areas is by using an EPIRB (Emergency Position Indicating Radio Beacon). EPIRBs use a dedicated emergency satellite system to give reliable transmission. Many EPIRBs send GPS position to give your exact co-ordinates. The SPOT GPS messenger is a viable alternative once you consider the pros and cons.
Pros of SPOT GPS Messenger
Cheaper to buy (around $300 vs $500-$800 for a personal EPIRB).
Can send non-emergency and or low priority help messages to friends and family - Check In/OK and pre-formatted custom messages (EPIRBs just send emergency messages).
Non emergency messages go to your friends and family (email and SMS), whereas EPIRBs send messages through an emergency response centre.
Sends "911" emergency messages through the emergency response centre (just like EPIRBs do but using a different satellite communications channel).
Can be used for tracking your trip (additional subscription).

Generally lighter than EPIRB units.

Replaceable batteries.
Cons of SPOT GPS Messenger
Relies on a commercial communications network (Globalstar) and private service provider to get messages through - maybe less reliable?
Emergency response in Australia relies upon a Memorandum of Understanding between the service provider (SPOT LLC), the US rescue services (who will take the call initially), and the Australian rescue services (who get handed the call to act on it). The MOU is currently found in the Australian National Search and Rescue Manual Section 2.6 (which states :

A Memorandum of Understanding has been reached between AMSA and

the IERCC regarding the handling of SPOT-initiated distress alerts. The IERCC

will notify JRCC Australia of any distress alerts within the Australian SRR.

JRCC Australia will then coordinate any SAR response required or transfer

coordination to another Australian SAR authority where appropriate.) Refer to the Manual above for what these terms mean, but in short the emergency call is handled through several parties.
No homing beacon function - relies on GPS co-ordinates contained in the message to get the rescue people to you. If you move (for example to avoid flood waters), you would have to send another message with an updated position.

Annual subscription needed - $352 AUD per annum.
Battery life is limited - EPIRB batteries generally last 5 years, SPOT uses replaceable lithium AAA batteries that last about a year (quite a bit less - some 7 days - if the unit is set for tracking mode that send a message every 10 minutes). Having said that, if you only turn on SPOT when you want to send the batteries should last some years. On a fresh set of batteries, SPOT should send continuous emergency messages (every 5 minutes) for a number of days.

Not 100% global coverage - most land areas but marine areas not covered well.

In general I think the SPOT GPS Messenger is great for land based activities (bushwalking, remote area 4WD, mountain climbing, fishing in rivers, etc.) - but is not suitable for offshore marine use.
If you are interested in the satellite network, you can get more information and view live tracks of Globalstar satellites at
www.n2yo.com
.
There's a bit more of a story on my
blog page
.
The MOTIONX application for iPhone is very good. It gives fast position lockon and plenty of navigation facilities. The email position reporting/sharing is similar to SPOT (no SMS) but is free. Of course you need to be in a mobile data coverage area for the facility to work. MOTIONX uses downloaded image based maps so they are not routable. But you get a choice of MOTIONX maps or Google maps and satellite images. Since the maps are downloaded as you view them you need to be careful of data charges.


These days I'm using an Android phone (Samsung S3 LTE) and I couldn't find an app similar to MotionX. So I wrote my own using the scripting tool "Tasker". It gets the GPS position and sends a simple email that is parsed by my server. Maybe one day I'll write something that emulates the SPOT.