Business Trips
I've been fortunate enough to be able to travel on business to a number of countries. Here's some photos of some of the more recent trips. What's not shown here are the many trips to Singapore, Hong Kong, Sydney, Melbourne, Adelaide, Kuala Lumpur, Bangkok and many other places, and much earlier trips to UK and USA. I don't travel much these days - not sure if I miss it or not!

---
Chicago - November 2002
Visited Chicago for the World Intelligent Transport Systems conference. Was there for about 4 days. I had the chance to go to an ice hockey game.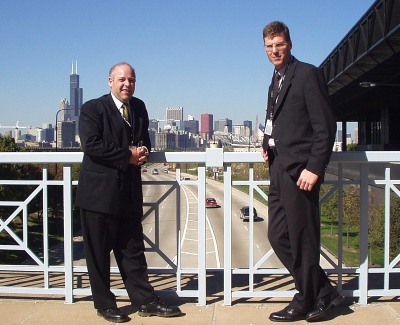 With Andrew at the convention centre
| | |
| --- | --- |
| Ice Hockey in Chicago | The famous "Loop" |
---
UK - August 2002
Had a business trip to the UK that lasted about 7 days. Main time spent in Newcastle, but also in the south. Being there for a weekend, I was able to catch up Sarah in Oxford and with relatives in Birmingham.



| | |
| --- | --- |
| Newcastle | With Sarah in Oxford |
| Aunts and Uncles in Birmingham | Cousins in Birmingham |
---
Dubai - April 2002

Had the chance to visit the United Arab Emirates in April 2002 and another trip a few months later. The city of Dubai is impressive, with many very good looking buildings.
| | |
| --- | --- |
| Dubai has some magnificent buildings | The Dubai Trade Centre |
| Part of old Dubai on the river | The road with my hotel |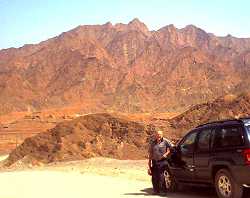 My business associate and friend, Trevor DeLa Motte from GBM
was good enough to show me some of the rugged country just south of Dubai.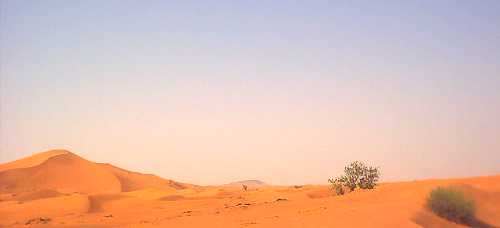 Real desert - just outside of Dubai
---
Turin Italy and Amsterdam - November 2000
During November 2000, I visited Turin, Italy for the 7th World Congress on Intelligent Transport Systems. Afterwards, I had a presentation to do in Amsterdam, and so was lucky enough to spend the weekend looking around this fascinating city. It was cold and wet, but great to have been there. Here's some pictures.



Flying over the Swiss Alps
was very spectacular





In the centre of Turin


At a Gala Concert held for the
Congress by the City of Turin
| | | |
| --- | --- | --- |
| In Amsterdam | Full of canals and sloping buildings | A quick peek in the red light district |
---
Beijing - May 2000
In May 2000 I had the opportunity for a short business trip to Beijing China. Between customer visits I managed to see some of the sights - a short section of the Great Wall of China, and Tian'anmen Square in the centre of Beijing. Many thanks to JS (Motherwell's Beijing representative) for looking after me during the visit and for giving me the opportunity to see the Great Wall. I was able to return to Beijing twice more in 2001.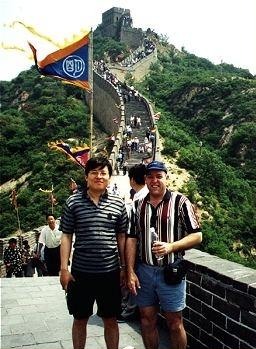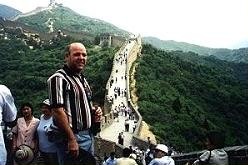 At the Great Wall (above) and with myhost - JS Zhang - (right)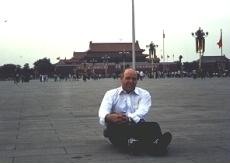 At Tian'anmen Square - my own sit downstrike!
---
Bridge Climb - 1999
In May 1999 I did the famous Sydney Harbour Bridge climb for the first time. Costs a bit and takes three hours, but it's something worth doing. First they dress you in a special suit with a harness belt and only things that are tied to you. You are not allowed to take anything else except your glasses, and even these need to be tied on. No cameras or other personal effects. If you need a hankerchief, you gotta use theirs with a special tie on point. You also get a radio (to listen to the tour guide commentary) and are given a chance to train on a series of steps at the starting point. At all times. you're connected to a harness system - so you can't fall - even if you tried.

The tour starts at the south approach and goes up the east top arch and down the west arch. Groups of 10 people are taken at a time. They say you have to be physically fit (there are 1350 steps) but I found it a very easy climb. You get a complimentary picture to prove you did it (I'm the last on the right). Overall - great fun.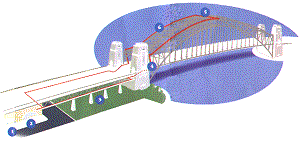 ---
Atlanta - November 1996
Spent a month in Atlanta USA during November 1996 and worked in the Vector office there. A good crowd. Managed to do quite a bit of trail walking while I was there. Also found a Karaoke bar!



| | |
| --- | --- |
| The guys at Vector Atlanta | Karaoke with Jake |