As I was flying up here with Jill early on Saturday morning I was pondering on how I would approach this reflection - and I was intensely aware of the enormity of the task ahead of me.
I knew that I somehow had to encapsulate the essence of a life, but that I had to be true to the character of the man I was describing - someone who was unassuming, one who preferred to hear than be heard, to see than be seen.
I was conscious of the fact that, when Mom, Greg and Teresa were discussing the arrangements for this funeral and they decided to spend more than the minimum on a number of things, the power went off -- twice. A sign perhaps that Dad wasn't happy? I didn't want to be searching for the fuse box here at St Matthew's, Windsor, because I'd embarrassed him!
We all here have our own memories of Dad - as a husband, a father, a grandfather, a brother, an uncle, a brother-in-law, a work colleague, a fellow parishioner, a friend. We have shared his journey with him in our own special way, and we have all been enriched.
That journey started in 1927 when Dad was born to Mary and Tom Smith. He was a twin to Tom and followed his sisters Molly, Margaret and Frances into this world. He was, in turn, to be followed by three more sisters: Catherine, Anne and Ruth.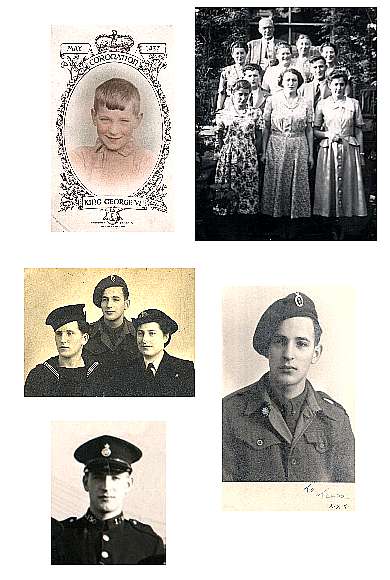 Recently Dad began writing of his childhood and early adult life. As I read his words they formed a clear picture of a happy, secure childhood within a committed Catholic family. Times were not always easy: the war brought evacuation to the country to escape the bombings; the depression meant that there were few luxuries - but the time was fondly remembered by Dad. Secondary schooling was not to his liking, however, and as soon as he was of age he left "prison", as he called it, to start employment in the electrical trade, following in the footsteps of his father.
Soon Dad answered the call to enter the Armed Forces because, although the war had ended, there was still much to be done. It was the first real separation of the twins who, although non-identical and of different personalities, had always been very close. Tom joined the Navy; Peter, always happier on terra firma, the Army. He served three years, including time in Italy. It was on leave during his Army time that, in March 1946, Dad first met Teresa Shirley. He was 18, she 16, but alas, in a few days he was due to be posted to Europe. They kept in touch and it was in September 1949 that Dad asked Teresa's father for her hand in marriage. Teresa and Peter married in September 1950 and this year was to be the year of their 55th anniversary.
After being de-mobbed in 1948, Dad made his way into the Police Force and, over the years moved from uniform to CID and was Detective Sergeant when he finished there in 1964. And when you think of DS, don't think of The Bill, a show that now portrays the police in a way that Dad found most disappointing!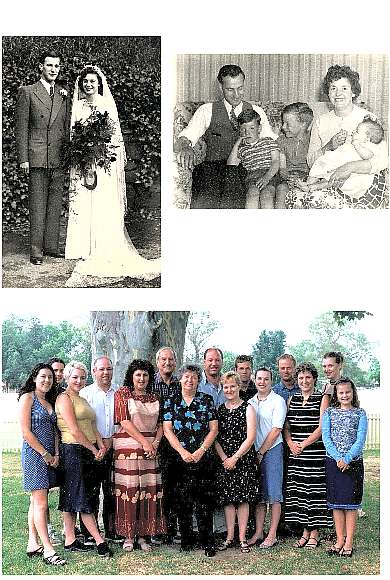 Only a few days ago Mom was contacted by Ted Barrington who had been a Constable under Dad and who remembered him well as a fair and straight boss with whom they all enjoyed working. He described Dad as "the gentleman detective".
In the early 60s Dad and Mom made the momentous decision to emigrate to Australia and in March 1964 we arrived in Sydney. Early employment was again in the electrical, or more specifically, the telephone area, before the opportunity of Chief Security Officer at Farmers Stores opened and Dad took that position, one which expanded as new stores opened and Farmers became Myer.
I was 15 when I began Christmas casual employment at the Farmers city store and, I must say, I was proud of my father. In the early days that pride was probably because my Dad held a senior executive position within this massive store which at that stage had nearly 1000 employees, and I was known as Peter Smith's son. But, as my understanding matured, my pride was more in him as a man. I would hear his whistle around the store and be aware of the cheerful greetings he exchanged with all, long before I would see him in person. I was aware of the very warm affection and respect with which people viewed him. Here I saw his professional person as a caring, compassionate and hard working man who treated everyone from General Manager to cleaner and stockfiller with utmost respect. In fact I remember clearly early one morning when, just after the store had opened and there were few people around, Dad called across to me from another department. He asked me to carry a suitcase while he helped a gentleman downstairs. He talked quietly to the man and, although the man seemed uncomfortable, we made our way down to Dad's office with Dad seeming to give patient support to this nervous man. It was only later that I discovered that I had helped in the arrest of a serial shoplifter. Surely a case of hating the sin but respecting the sinner!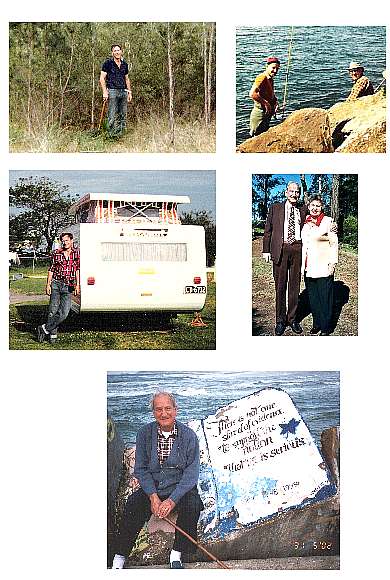 Unfortunately, corporate amalgamations between the Myer and Grace Brothers groups and the resulting duplication ofsenior executives saw Dad's position finish at Myer when he was in his mid 50s, not an easy time to make a career change.
There were more enriching things ahead, however. Mom and Dad decided to move from suburban Marsfield to a bush site on 5 acres at Cattai. Dad had always loved the bush and he particularly enjoyed spending time at Joe and Marjorie Coogan's, in the then country area of Kellyville, where he could spend the day on bush related projects. So the move to Cattai was the fulfillment of a long held dream. An added dimension of his joy was living so close to Teresa, her husband Nick, and his grandchildren Katrina and Jenny.
Katrina, unable to be here because she is currently in England, sent across a few thoughts by e-mail. She wrote:
"We always considered ourselves the luckiest because our grandparents lived right next door and we could see them whenever we wanted and sneak to Grandad's licorice allsorts jar. I figure it was he who taught me to sing. Every morning he would walk us to the bus stop and we'd sing - he was also officially known as Grandad to all my friends. I want to thank him for being there all the time while Jen and I were growing up.We love him and will miss him."
The move to Cattai also meant their arrival in this parish, St Matthew's, and Dad became an active member as reader, acolyte and Council member.
Recent years have been marred by difficult health as first heart and then kidney problems affected what Dad could do around the property, in the parish and with his time in general so Mom and Dad moved to South Windsor. Up until the final weeks, however, Dad's response to queries about his health was always positive despite the pain, discomfort and frustration he was feeling. The end did come quickly, as evidenced by the beautiful picture of Dad on the booklet, taken only a few weeks ago by Mom with the new camera he had given her as an early Mothers' Day present.
Along the way Peter was father to three children: me, Greg and Teresa; grandfather to Jody, Caitlin, Sarah, Cameron, Michael, Katrina and Jenny; and, although he did not have a chance to meet her, great-grandfather of Brielle. He loved us all, happily travelled across the country to visit us, and excitedly welcomed us home at any time.
But most of all he was husband to Teresa for 54 years, years that went without one day where they didn't say that they loved each other. They have been the epitome of a devoted married couple: totally dedicated to each other and passionately in love. They have provided the most perfect role models to all their children and grandchildren.
Together they have befriended many, frequently sharing their home with others. I think of Mike, Paul, David, Charlie, Jim, Val, Alec, Sharon and, of course, Bev.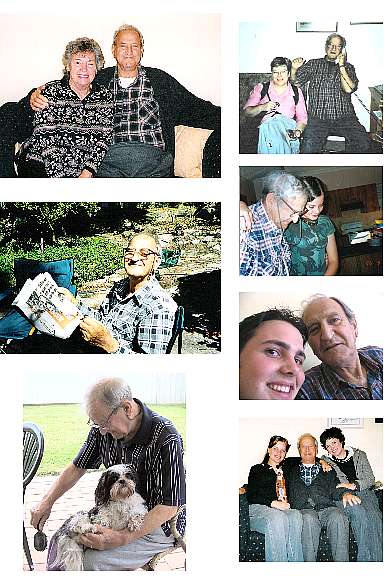 I haven't mentioned anywhere near everything: Dad's time in choirs and his fine singing voice; his love of cross stitch; the joy he got from travelling around Australia; the fondness with which he spoke of his friends, many of whom are here today.
Our journey with him brings us to today, where we farewell him, and I thank all of you who are helping us do so; particularly Father Peter, Father Mac and Sister Ann, who have done so much to prepare for our Mass of Thanksgiving. Dad will be remembered for his integrity, his humility, his devotion to his family, his concern for others, his patience, his unerring charm and politeness ..
And speaking personally, I know that Greg, Teresa and I are farewelling a wonderful father. My nieces and nephews, and my own children, will always hold the memory of his love for them in their hearts. His daughters-in-law, Cheryl and Jill, saw him as another father and felt such love and affection for him. And our amazing mother farewells that special man whom she describes so simply and beautifully as the other half of herself.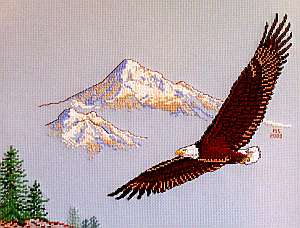 Dad's favourite tapestry, sitting on his coffin here, was his eagle. Katrina, with her artistic bent,described the eagle as strong, beautiful, calm and graceful. Surely an image of Peter Smith - our husband, father, grandfather, brother and friend.
Chris Smith