Greg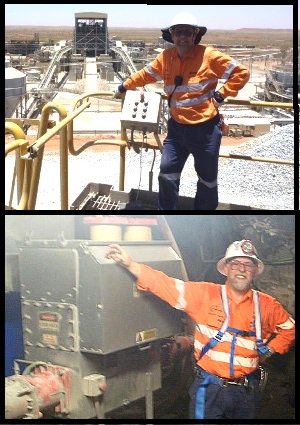 Some of my pages:


Work

Back at Telfer for a short term contract (less than 12 months) as Senior Electrical Engineer
Contact Details

Mobile : 0429 863 906
E-Mail : gregsmith@smithonline.id.au




Qualifications

Bachelor of Engineering (Electrical) NSWIT (Majors in Digital Systems)
Trade Certificate - Scientific Instrument Making




Previous "Lives"

Honeywell Ltd (Project Engineer), Alcoa of Australia (Electrical Engineer), Mt Newman Mining Co. (Control Systems Engineer), Minenco Engineers (Control Systems Engineer), McDonnell Douglas Information Systems (State Manager), Vector International (Project Manager / Technical Manager), Ripple Systems (Technical Manager), St Ives Group (IT Manager), Calibre Controls (Senior Consulting Engineer), Memo Communications (Engineering Manager). Also some consulting for SVT Consultants (Project Management). Newcrest Mining Telfer Gold Mine

(

random Telfer pictures)

(Senior Electrical Engineer), BHPB Technical Lead Wireless Telemetry System project.




Industrial Experience

Electrical systems including switchboards, HV distribution, LV, power generation systems, Business computer systems, Traffic Management Systems, Smartcard and Ticketing Systems, Alumina, Steel, Mining, Mineral Processing, Materials Handling, Gold, SCADA, Power Generation, Glass, Water Treatment, MRP systems, Two Way radio, Wireless IP datalinks and point to multipoint, Mesh, Microwave





Hobbies, Interests

Bushwalking , Walking, Camping, Web Surfing, Model Rockets, Photography




Music

Trance (like listening to www.etn.fm, difm), Fear Factory (Obsolete and Remanufacture) and still PIL. Also listening to Vast, Shihad,

Drowning Pool

and others.
---